LANAP® Laser Gum Treatment

San Antonio, TX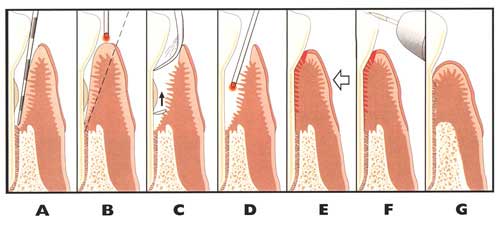 When it comes to treating gum disease, one of the most effective treatments available is known as LANAP®. If you want to be able to fight your gum disease and restore your teeth, this is likely going to be the procedure we recommend for your mouth after a consultation with our experienced staff. Here at Aesthetic Periodontal & Implant Specialists, we offer LANAP® laser treatments, along with other non-surgical periodontal treatments such as root scaling and planing, giving your mouth a deep clean and an amazing periodontal treatment, all in one!


What Is LANAP®?

LANAP® is a periodontal treatment that we use to help rid your mouth of the bacteria responsible for your periodontal gum disease, and heal the gums back up to your teeth. LANAP® stands for "laser assisted, new attachment procedure" and it allows your gums to have a clean, healthy area of the tooth to reattach to, effectively fighting against gum disease at many levels.


What to Expect During the LANAP® Gum Disease Procedure

The first part of the procedure to fight periodontal disease involves us going in and using the laser to take out any diseased or dying tissue, plus remove the bacteria that live in the gum pockets. Next, we go in with our tools to scale the plaque and calculus buildup off of the root of your teeth, leaving a clean surface for your gums to re-adhere to. Once the tooth's root is completely clean, we again use the laser to create a blood clot between the gums and the tooth, creating a barrier where bacteria cannot reenter the gap that was just cleaned out. Then, we take a moment to make sure the tooth is stable, and trim a little bit of enamel if necessary to create a solid bite during the healing process. Finally, we allow the area to heal.

During the healing process, a lot of amazing things happen. First, the gums reattach to the tooth now that it is clean and the bacteria is gone. This happens as the clot dissolves, and continues after the clot is gone. Then, the bone that was once disintegrating begins to regrow, restoring your former bone loss. This gives your tooth the necessary stability to remain where it should be, healthy gums, and restored oral health.