Dental Implants

San Antonio, TX




Here at Aesthetic Periodontal & Implant Specialists, we are dedicated to helping you get, and enjoy, your dental implants to the fullest. They are a great option no matter if you are missing just one tooth out of your smile, or several. They can give you back the function you need from your mouth, plus they can restore your confident smile.

If you want to find out if you would be a good candidate for dental implants, call us at (210) 614-4700 today!


Read more about dental implants:
Why You Need Dental Implants

Once you have a tooth extracted, the bone that held that tooth in place begins to deteriorate. When you still had the tooth, the bone was being used constantly, which caused the bone to constantly remain strong and dense.

Once that tooth comes out, nothing is stimulating that tissue, and the body naturally believes there is no use for that bone anymore, and begins to remove it. This is just the body's way of keeping things tidy. However, that can greatly affect your oral health.

Instead of letting your body resorb the bone, you can get a dental implant put in place, which allows the bone to maintain the stimulation it needs to stay strong. Dental implants are put into the jaw, so your body reacts to them in the same way it did to your original tooth.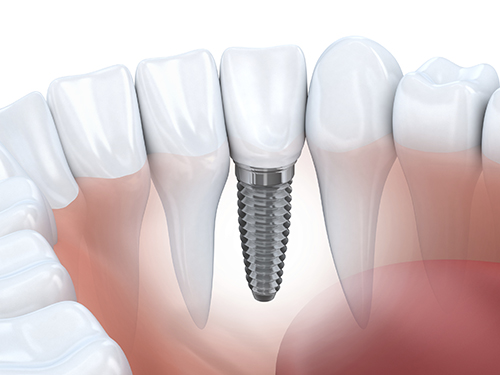 The Process of Getting Dental Implants

First, we remove the damaged tooth and prepare your jawbone for surgery. Depending on your bone density, and the placement of the dental implant, bone grafting may occur. When the jaw is ready, we will place the implant into the jaw. Sometimes, we may place a temporary crown. The healing process can take between 3-6 months, and we will have you come in for regular check-ups on how your jaw is healing during that time.

Once your bone has integrated with the titanium implant, if a temporary crown has been placed, we will remove the crown and place an abutment, which is an extension of the dental implant that was placed. Once your gums are healed, we will then attach your permanent crown.


The Benefits of Dental Implants

There is no other product on the market that gives you the same benefits as dental implants. They go into your mouth and perform and function just like your original tooth once did. You can eat the foods that you wouldn't be able to if you had a bridge or dentures, and you can speak without fear that your implant is going to move. Your jaw bone will be able to maintain its strength, integrity, and density, and you get to smile without anyone seeing anything different in your mouth.

The first step to changing your smile and your life is by making an appointment for a dental implant consultation with Dr. Hosseini.