3D Imaging

San Antonio, TX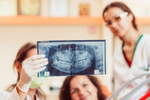 At Aesthetic Periodontal & Implant Specialists, we utilize the 3D imaging to better understand the anatomy of your mouth, which is essential before we perform any type of corrective procedure. By using this state-of-the-art advanced periodontal technology, Dr. Hosseini will be better prepared to accurately diagnose potential issues and develop the best possible treatment program for you.


How is 3D imaging different from a traditional x-ray?

A typical digital x-ray will just focus on the teeth, and for each image you'll need one exposure. Therefore, to get the same picture as a 3D image, you'd need many exposures. 3D imaging shows considerably more than a simple 2D x-ray, as this newer technology will provide more accurate and complete visual information from every angle. Additionally, the data can be easily shared and duplicated without the worry of film getting lost.


What are the 3d images used for?

After the scan, the information will be used to develop a proper treatment plan for your oral or facial issue. We'll use this technology to easily and quickly share images of the problem area with your referring dentist or physician. This will allow your doctors to work together on your care to deliver a positive treatment experience.


Schedule an Appointment

To learn more, give us Aesthetic Periodontal & Implant Specialists a call at (210) 614-4700 today!