Dental Implant Process

San Antonio, TX




Getting dental implants is an incredibly rewarding process. It can give you back the confidence you may not have even realized you were missing. Dental implants can restore your ability to speak and chew like normal, plus let you live out the rest of your life with a smile that you can show off to the world. We can help you get dental implants here at Aesthetic Periodontal & Implant Specialists, so give us a call and schedule your initial consultation.


Examination and preparation

The first thing we do is examine your mouth to determine the best course of action. Dr. Hosseini will work with you to make this a pleasant and easy process, answering all of your questions and explaining each step. Dr. Hosseini may recommend a procedure such as a bone graft if there is not enough support for a dental implant at the time of your exam. This is nothing to worry about, and our friendly and experienced team will be there to guide you through the process.


Dental Implant oral surgery

After getting your mouth healthy and healed up, you would then come in for oral surgery. If you are only having a single implant placed, then we prepare your jaw and we put the abutment, or anchor, in the proper place. A temporary crown is placed over the anchor, and you are given time to heal up. If you are getting multiple implants for multiple missing teeth or an entire arch of missing teeth, then we make different holes around your jaw and place the anchors into the bone. The same procedure follows with crowns and healing.


Post-surgery adjustments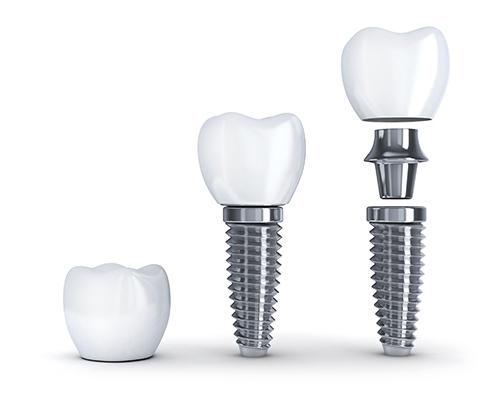 Once the dental implant anchors have healed, you will then come back in and see us. We will have you come in during the healing process, as well, so we can make sure nothing moves out of place.

When everything is healed, we will take off the temporary crowns, and attach the permanent false tooth (or teeth) and make adjustments to make sure it fits your mouth and your teeth come down together properly.

Once all adjustments have been made, you will then be on your way with a beautiful, healthy smile.