Frenectomy

San Antonio & Pleasanton, TX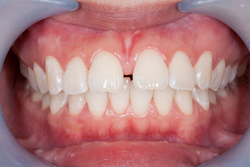 Your body consists of several frena. A frenulum is a piece of tissue that acts as an anchor, preventing the organ to which it is attached from making too much movement. In your mouth, you have two major frena: the lingual frenulum and the maxillary labial frenulum. For most individuals, these frena pose no issue. However, if they are causing oral issues, Aesthetic Periodontal and Implant Specialists can help.


Issues with Frena

The lingual frenulum connects your tongue to the floor of your mouth. For some people, the frenulum may be too short. For others, it may even connect to the tip of the tongue. In either case, a short lingual frenulum, also referred to as a tongue tie, can severely limit movement. This condition is present at birth. If it's severe enough, it can affect your ability to eat and speak properly.

The maxillary labial frenulum connects your upper lip to your gums. If the frenulum is too big, or too thick, it can lead to a gap between your two front teeth. Braces can be used to close the gap, but the frenulum could cause it to reopen again. To successfully close the gap, the frenectomy must be performed after orthodontic treatment. Otherwise, scar tissue could prevent the braces from having the desired effect.

A maxillary labial frenulum can also be too tight, known as a lip tie. This can cause issues right from birth with proper breastfeeding.


How is Frenectomy Performed?

A frenectomy is a relatively simple, straightforward procedure. After a local anesthetic is administered, the frenulum is cut. Traditionally, the cut was made with a scalpel. However, technology is constantly evolving, and more recent frenectomies are performed with the use of a laser. After the cut is made, stitches are given.

The use of a dental laser for a frenectomy offers several benefits and is fast becoming the tool of choice. Lasers help to limit the amount of bleeding experienced during a frenectomy, cauterizing the wound as it cuts. Secondly, there is less tissue trauma involved, which means fewer sutures. Finally, the use of a laser can mean less downtime after the procedure.

Frenectomies are often performed on babies, as a tongue or lip tie can affect their ability to breastfeed, or even bottle feed. Tongue ties can also impair their ability to learn how to speak properly. If the maxillary labial frenulum is causing a gap between your two front teeth, a frenectomy can help to restore a beautiful smile.


Healing from Your Frenectomy

After your procedure, we will provide you with instructions for aftercare. Keeping your mouth clean is essential. A salt water rinses several times a day can help to prevent infections and keep the inflammation down. You should continue to brush your teeth but do so carefully around the surgical site. Any pain can be managed with over the counter pain medication. Any concerns warrant a call to our office immediately.

For most people, the frena in the mouth pose no problems. However, if either your lingual frenulum or your maxillary labial frenulum are causing you problems, a frenectomy may be the answer. Contact Aesthetic Periodontal and Implant Specialists at (210) 614-4700 to schedule your consultation today.