Improved Quality of Life with All-on-4®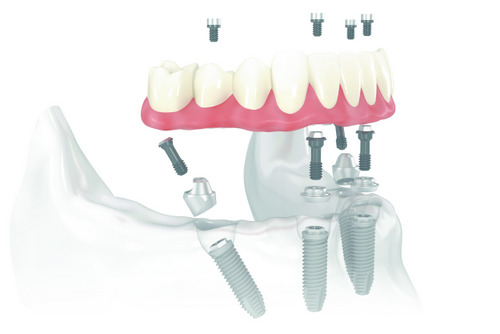 It used to be that when you lost your teeth, you were restricted to dentures. The development of dental implants has been a game-changer. However, to be considered a candidate for dental implants, you first needed to have sufficient bone mass left in your jaw. This meant that dental patients who have been wearing dentures for a while, or individuals who have experienced loss of bone in the jaw, were ineligible – until now. At Aesthetic Periodontal and Implant Specialists, you can enjoy an improved quality of life with All-on-4®.


What are All-on-4® Implants?

All-on-4® implants are a type of implant procedure. Typical implant supported dentures require 6 to 8 implants. If you lack sufficient bone mass in your jaw, it is impossible to successfully support this many implants. If even one implant fails, the entire restoration is compromised. The All-on-4® implants rely on four strategically placed implants – two vertically in the front and two in the back, inserted at a 45-degree angle for maximum stability.


Your Overall Health is Improved

With All-on-4®, your overall health is vastly improved. Even with traditional dentures, eating can be a challenge. This is especially true if your dentures come loose while you eat. Chewing is the first step in the digestive process. Your body cannot absorb all of the nutrients from what you eat if it is not chewed properly. All-on-4® implants are secure, and won't slide out of place, making chewing completely natural.


Communication is Easier

Stable teeth can also make it easier for you to speak, and be understood. Dentures, even with all of today's developments, are still bulky in your mouth and can alter your speech. If they slip, you may end up speaking with a lisp, or your teeth may clack together. This is not an issue with All-on-4®.


Greater Comfort

Dentures rely on your gums for support. This can suffocate your gums. Moreover, if they constantly slip out of place, dentures can cause painful sores. All-on-4® is supported by dental implants. The pressure is completely lifted off of your gums. Blood flow is unrestricted, allowing for sufficient oxygen and nutrients to fuel the tissues of your jaw.


Ease of Care

Dentures require significant care. They have to be removed every night and brushed with denture paste, or soap and water. They also need to be left out every night, soaking in a denture cleaning solution. With All-on-4®, your teeth are made from ceramic. They can be brushed and flossed just like your natural teeth. There is no extra care required.


Improved Oral Health

When you lose your teeth, your jawbone begins to resorb. As the bone weakens, it changes shape. Your lips and cheeks sink in, you develop jowls, and lines and wrinkles develop around your mouth and eyes. Suddenly you've aged 20 years or more. Dentures do nothing to stop this bone loss, and can even accelerate it in some cases. All-on-4® implants are designed for those who have already experienced some bone loss in the jaw. Once placed, they can help put a stop to further loss, protecting the integrity and shape of your jaw.

If you are interested in improving your quality of life with All-on-4® dental implants, contact Aesthetic Periodontal and Implant Specialists today at (210) 614-4700!