Are Dental Implants Better Than Dentures?

San Antonio, TX




There are no other products on the market right now that are better for replacing missing teeth than dental implants. They can give you all of the functionality that you lost when your tooth was removed, plus, they have the ability to last you for the rest of your life if you take proper care of them. If you want to find out how dental implants would benefit you specifically, then you should give us a call here at Aesthetic Periodontal & Implant Specialists.


Why Dental Implants Are So Much Better

There are a lot of downsides to dentures. They can slip and move around, causing problems speaking, eating, and even a loss of confidence. They do not stimulate your jaw bone, and lead to bone loss. Plus, they limit the foods that you can eat because they are not secured in your mouth. Dental implants do not cause any of these issues.



Dental implants are anchored into your jaw bone. This means that they will not slip around or fall out. You can speak without fears, eat without slippage, and have a confident smile because you know nothing is going to be moving around in your mouth that you don't want to move. Dental implants, since they are anchored directly into the jaw, do stimulate the jaw bone. This helps prevent, and can even help to reverse, bone loss. Each bite you take allows your jaw to get the stimulation that it needs to keep growing new bone and keeping you healthy.

When you have dental implants, you can eat anything you would have eaten with your original teeth. There are no limitations once the dental implant procedure is completed and you have healed. They stay put even when eating foods like corn on the cob and crunchy greens.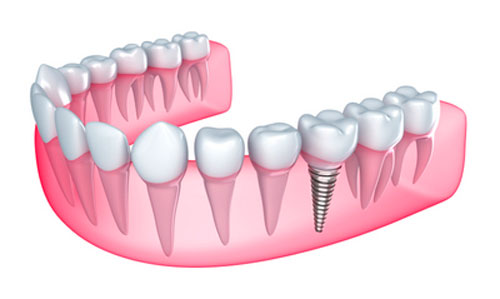 Additional Benefits of Dental Implants

Because dental implants are able to stimulate the jaw, it helps to keep your jaw looking the same as it always has. Normally, when a person gets dentures, the jaw starts to disintegrate some, causing the sunken cheeks that become synonymous with dentures. When you get dental implants, this doesn't happen, avoiding that aged look and allowing you to remain more youthful looking.

Additionally, dental implants are able to be treated just like your original teeth. You need to brush your teeth at least two times daily, and that includes your implants. You must still floss each day, even with your dental implants. They act just like your regular teeth and are able to be maintained like your regular teeth, so there are no extra steps required to keep them looking gorgeous.