All-on-4® Dental Implant Treatment

San Antonio, TX




Tooth loss is a serious issue and needs to be addressed. In the past, the way to restore missing teeth (particularly when a patient was missing an entire arch or even all of their teeth) was through the use of dentures. But dentures can prove to be a hassle for many people. Aesthetic Periodontal and Implant Specialists work with the latest advances in tooth replacement technology. These advancements have brought about dental implants and, as a result, the All-on-4® Treatment Concept.


What are Dental Implants?

Dental implants are small, titanium rods that are surgically placed into your jawbone. As you heal from the procedure, the bone fuses to the rods, providing strong, stable supports for your false teeth, which are screwed in place. Before receiving your dental implants, digital x-rays are taken to assess the condition of your jawbone and help us to determine the best placement for implants. They will also help us to determine how many are needed for the best results.


All-on-4® Implant Treatment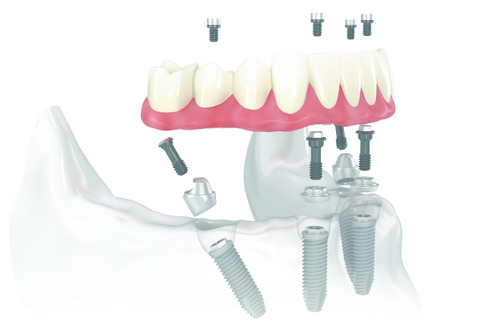 Just as the name suggests, All-on-4® dental implants rely on four implants per arch (8 total if you are having both your upper and lower sets of teeth replaced). Instead of using more implants, we can maximize stability on four alone. This is done by placing two in the front vertically and the two toward the back sides of your mouth at a 45-degree angle.


All-on-4® Treatment Procedure

On the day of surgery, we administer a local anesthetic to numb the areas where the implants are to be placed. If necessary, we can also administer a sedative to help you relax throughout the course of the procedure. We make incisions in the gums and then drill holes into the bone. We place the titanium rods and stitch the gums closed around them. Once done, you will be provided with a temporary set of false teeth so that you can eat and speak while you heal.



Healing from implant surgery can take anywhere from 6 to 12 weeks. During this time, a diet of soft foods is recommended to avoid irritation. We will provide you with a full set of aftercare instructions to help you deal with pain, swelling, and getting back to normal activities. As you heal, you will come back for periodic visits so that we can check on your progress.

When the implants are healed, you will return to the office once again, where abutments will be placed on the tops of each implant. We then take impressions, which will be used to make your permanent teeth. As soon as they are ready, they are screwed permanently in place. These teeth can, and should, be cared for just like natural teeth.


Benefits of All-on-4® Treatment

The All-on-4® Treatment Concept offers the same benefits as dental implants, with just a few additional ones:

| | |
| --- | --- |
| • | Less implants (less surgery). |
| • | Faster healing time. |
| • | Can eliminate the need for a bone graft (if you have lost some bone mass due to your tooth loss). |

The All-on-4® Treatment Concept provides you with an alternative to the traditional dentures, giving you a full, beautiful, permanent set of false teeth. Not only do you get your life back, but you will feel more confident when you smile, and no one will know the implants are there! Call Aesthetic Periodontal and Implant Specialists today at (210) 614-4700 for more information.