Regain Your Full Smile with All on 4 Implant Treatment

San Antonio, TX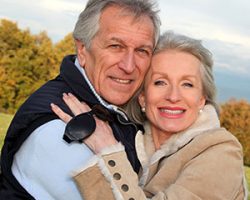 Tooth loss has several serious consequences. One of the most obvious effects of tooth loss is the appearance of your smile. Without your teeth, you may become self-conscious, and attempt to hide your smile (or refuse to smile at all!).

Tooth loss affects your abilities to eat and speak, making both a massive challenge. Under the gum line, your jawbone begins to resorb. As it does, it begins to change shape, which also affects your appearance and your smile.

Your lips and cheeks sink in, you develop jowls, and wrinkles develop around your mouth and eyes, all aging you well beyond your years. Dental implants have become the replacement option of choice for restoring missing teeth, but if you have lost too much bone mass, they are likely to fail. At Aesthetic Periodontal and Implant Specialists, the All-on-4 treatment concept can help you to regain your full smile.


Dental implants are small titanium rods that are surgically inserted into your jawbone. They rely on osseointegration or the fusion of your jawbone to the implants. Successful osseointegration creates a strong, stable support for your replacement teeth.

If you are missing all of your teeth (in a single arch or your whole mouth), traditional treatment methods used 6 to 8 implants to support an implant-supported denture, eliminating the need for traditional dentures. However, you must first have sufficient bone mass for osseointegration to take place. Without enough bone mass, your implants may fail. Even one failed implant can lead to failure of your entire implant supported denture.


What is All-on-4?

The All-on-4 treatment concept is a revolutionary concept that allows patients typically ineligible for dental implants the opportunity to enjoy the many benefits that implants have to offer. The concept relies on only four strategically placed implants. Two are inserted vertically in the front of the jaw, where there is naturally more bone mass. The other two are inserted at a 45-degree angle at the back of the mouth, avoiding the sinus cavity. The angle provides for maximum stability.


The All on 4 Implant Procedure

All-on-4 dental implants have a similar procedure to regular dental implants. A consultation is done first. We take digital images of your mouth to see the extent of your bone loss. The images allow us to plan the best placement for your implants. They also allow for the design and fabrication of your permanent teeth to be ready for the day of your procedure.

On the day of surgery, a local anesthetic is administered, along with sedation, if necessary. Incisions are made in the gums to expose the bone. Holes are drilled and the implants placed. Your gums are then stitched closed around your implants, leaving just a small amount of the rod exposed. Abutments are placed on the tops of the rods, and your permanent teeth screwed in place. You can go home with a fully functional, beautiful smile that very same day.


Benefits of All-on-4

All-on-4 implants have multiple benefits:

| | |
| --- | --- |
| • | Minimally invasive. Fewer implants mean less surgery. This also means that the procedure is safer. |
| • | Your healing time is significantly reduced. |
| • | The angle of the implants provides maximum stability. |
| • | Bone grafts and sinus lift procedures are avoided. |
| • | More affordable. |
| • | You can reap all of the benefits that implants have to offer. They are permanent, more comfortable, easy to care for, and they preserve the integrity of your jawbone, preventing further bone loss. |

If you have lost your teeth, and previously been told that you are not a candidate for dental implants, All-on-4 may just be the treatment to help you regain your full smile. Contact Aesthetic Periodontal and Implant Specialists today at (210) 614-4700 to find out!