How Gum Disease Typically Progresses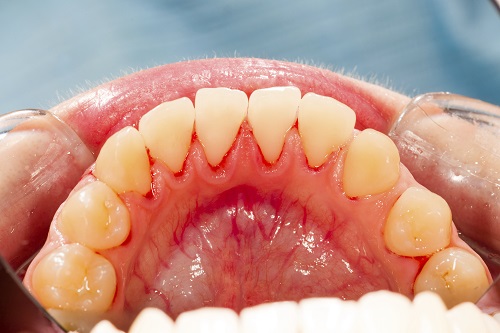 Gum disease does not cause a patient much concern in the early stages. However, this is the time when you need to address the problem. At this point, we can reverse the disease and get you back on track to better dental care and health.


What Is Gum Disease?

In the early stages, gum disease is defined a gingivitis. In the later stages, it is called periodontitis (advanced gum disease). The early stages of gum disease, or gingivitis, will improve if you practice proper brushing and flossing. This means brushing the teeth twice a day (preferably in the morning and at night) and flossing the teeth at least once a day. This prevents plaque from accumulating and building up on the teeth's surfaces and above and below the gum line. A professional cleaning, which includes scaling the teeth of tartar below and above the gum, may take place. Root planing also assists in smoothing irregularities, so plaque cannot be deposited as easily.


Gingivitis (Early Gum Disease)

Gingivitis, which, as noted, is early-stage gum disease, is defined by some bleeding during brushing, as well as mild gum inflammation, or gingival redness and swelling. By having a scaling and root planing (SRP) and following a practice of regular dental hygiene at home, you can overcome this initial stage of the disease.


Periodontitis and Advanced Periodontitis

When gum disease reaches a more advanced stage, it is called periodontitis. During this phase of the process, the gums separate from the teeth, which results in gum recession. When this happens, plaque can more easily build up at the roots, which serve to support the bone or the fibers of the periodontal membrane. By the time advanced periodontitis sets in, the supporting fibers and bone have already become destroyed.

As you can see, it is wiser to deal with gum disease in its earliest stages. That is why getting a comprehensive periodontal evaluation is vital to good dental health. Why not schedule an evaluation today?