How a Gum Disease Diagnosis Goes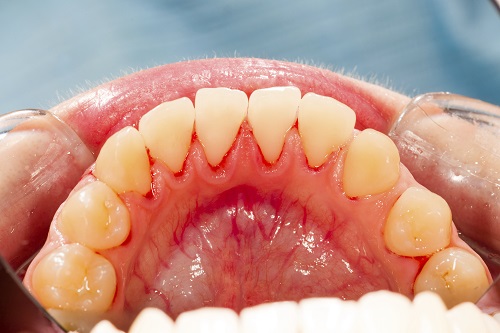 If we diagnose gum disease, we first have to perform a comprehensive periodontal exam or CPE. This type of exam is what we use to determine the extent of your gum disease and to make a plan for treatment.


What Happens during a CPE?

When we perform a CPE, we have several areas that we consider. Not only do we measure the pocket depth to determine the degree of periodontal disease, we also consider other criteria. In addition, we look at the width of keratinized tissue in the mouth. The University of Pittsburgh School of Dental Medicine defines keratinized tissue, or keratinized mucosa, as the band of tissue in the mouth where the teeth meet the gums. This tissue protects the roots of the teeth. We also check gingival recession and the distribution of biofilm or plaque. Tooth mobility, occlusal patterns, bone quantity and quality, and bone loss patterns are noted as well. To support our findings, we also consider the patient's age, their overall health, and whether or not they use tobacco or smoke.


Confirming a Diagnosis

After the CPE, we can confirm a diagnosis and give you our findings and proposed plan of care. A gingival pocket depth under 3mm is considered healthy while pocket depths of 4 to 6 millimeters are common among periodontal patients. When gum disease has not been treated, the depth can be as deep as 10 millimeters. While treatment does not lead to a complete reversal of the condition, it significantly improves the health of the teeth and gums. In cases of severe damage, we usually recommend a surgical grafting procedure. During your appointment, we normally ask how long you have experienced symptoms and whether they are sporadic or constant. We will also want to know more about your daily oral hygiene routine and when you last visited a dentist. It helps us to know what medications you have taken or are taking as well.

Do not put off getting a CPE, whether you suspect you have gum disease or not. Having a periodontal exam, at least yearly, can go a long way in preserving and maintaining your smile.